Millionaire property investor Frank Buyanga has written to the police advising them: "I've got my son back."
Buyanga has also withdrawn an urgent High Court chamber application seeking to compel the police to locate and return his five-year-old son, whom he alleged was abducted by his ex-girlfriend, Chantelle Muteswa.
"I filed a police report for contempt of court with you on March 11, 2020, after the mother of my son, Chantelle Muteswa, failed to comply with a court order which states that my access was extended to allow me to give accommodation to the minor child and sped off with the child. I hereby write this letter to notify you that I have recovered my son at Parktown shops in Harare," Buyanga said in a letter to Highlands police.
On Thursday, dramatic CCTV footage emerged showing two men storming a Honda Fit parked outside a Spar in Waterfalls and grabbing a young boy before jumping into a parked Ford Ranger and driving off.
Muteswa, 31, later told police that four men armed with rifles had surrounded their vehicle and Buyanga seized the boy from the back seat, according to an internal police memo of the incident seen by ZimLive.
"Other unknown male adults assaulted the occupants with fists and took away Chantelle Muteswa's handbag containing cash US$2,000 and some cosmetics," the police memo adds.
Muteswa told police that the four men jumped into two open trucks and drove off at high speed.
The CCTV footage, however, shows just two men dressed in dark suits running towards the Honda Fit which had its bonnet open. A woman now identified as Chantelle's mother, Judith, is seen standing in front of the vehicle examining the engine area. She closes the bonnet and charges at the two men when she realises what is happening.
It takes about five seconds for the men to grab the boy before jumping into their vehicle which drove off at high speed. Pictures circulated by Muteswa's lawyer, Munyaradzi Bwanya, showed that Judith suffered shoulder and foot injuries after hanging onto the moving Ford Ranger.
Bwanya himself told the NewsDay newspaper on Friday that Buyanga had followed Muteswa into a shop where she was buying a drink for her son "and started beating Muteswa".
"He was in the company of armed men. One was pointing a gun at Muteswa, the other one at the residents who wanted to intervene," Bwanya claimed.
The lawyer's account does not appear to be supported by the CCTV footage. The two men who approached the Muteswa vehicle also did not seem to be carrying any rifles.
Buyanga and Muteswa have been locked in a vicious custody battle, which has resulted in nearly a dozen court cases.
Buyanga has had custody of his son – who attends the Harare International School – since July 2019 after Muteswa was evicted from a property where she lived with her father. Buyanga applied to the High Court for temporary custody of his son while accommodation was sought for him, which was later extended with Muteswa being granted access rights.

#BREAKING Lawyer for Chantelle Muteswa, ex-girlfriend of Frank Buyanga, says this CCTV footage captures moment two men storm a vehicle and abduct the couple's 4-year-old son who has been the subject of a custody battle. The incident happened around 3PM in Central Harare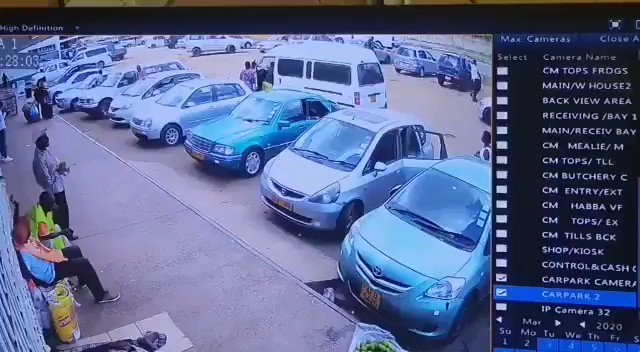 376:13 PM – Mar 26, 2020Twitter Ads info and privacy35 people are talking about this
Two weeks ago, Buyanga was granted joint guardianship and custody of his son by the High Court in a landmark judgement.
The common law rule that gives the mother of a child born out of wedlock sole guardianship and sole custody of a minor child is unconstitutional, Justice Happious Zhou ruled.
Justice Zhou said was unfair to only consider Buyanga as the father for the purposes of maintenance, without enjoying the right to spend time with his son.
The judge said: "It is unfair discrimination to deny a child benefits of associating with his or her biological father, which is an aspect of parental care, on the mere ground of marital status of the parents at the time that he or she was born.
"The principle of common law in this respect is inconsistent with 81(1)(a) and section 56(1) an (3) of the Constitution of Zimbabwe."
Muteswa has since appealed that judgement at the Supreme Court.
Muteswa said the judge misdirected himself considering that she was awarded sole custody of her son by the Children's Court.
"The court aquo grossly misdirected itself in awarding joint custody of the minor child to the respondent (Buyanga) in circumstances where there is an extant order from the Children's Court (CCA205/18) awarding sole custody to the appellant and such order has not been varied, appealed against or brought before it on review and further, in circumstances where the court aquo did not conduct any enquiry into the suitability of the respondent for custodial obligations," she argues.
Justice Zhou expressed concern that the couple's young son was being used to settle personal differences.
Buyanga has claimed that Chantelle Muteswa is in a romantic relationship with President Emmerson Mnangagwa's son, Collins, and that she has roped in first lady Auxillia Mnangagwa in her battles.
In the High Court application, now withdrawn, he accused the first lady of issuing unlawful instructions to the police not to cooperate with him.