Singer Jah Prayzah was forced to change his Twitter account settings on Tuesday to distinguish it from a parody account which denounced President Emmerson Mnangagwa's regime.
Thousands of people were taken in by the impostor account – and many said they forgave the singer's past dalliance with Mnangagwa's oppressive regime.
"Today I have decided to break my silence," the parody account @jah_prayzah tweeted on Tuesday morning. "As a public figure and leading artist, I cannot ignore the current mess our beautiful nation is in. I urge our government leaders to respect human rights and deal with corruption decisively. No to violence #FreeHopewell."
The tweet came after police on Monday arrested an opposition leader and an outspoken journalist ahead of anti-government protests planned for July 31.
Journalist Hopewell Chin'ono and Transform Zimbabwe leader Jacob Ngarivhume were accused of posting messages on Twitter inciting public violence. Their lawyers say the charges are trumped up.
Uzumba Maramba Pfungwe-born Jah Playzah produced the soundtrack to the military coup that ushered Mnangagwa into power.
Jah Prayzah used to perform in military attire, serenading Mnangagwa with his hit songs 'Mdhara Vachauya' and 'Kutonga Kwaro' which became anthems in the euphoria that greeted a 2017 military coup. The two songs are widely believed to have been written in praise of Mnangagwa.
But after soldiers killed protesters following disputed elections on August 1, 2018, Jah Prayzah abandoned the military attire as his public image also suffered. His production campany, however, still carries the name Military Touch Movement.
The tweet from the parody account had received over 4,800 likes and 1,700 retweets by 3PM on Tuesday.
"At last Jah Prayzah, those are the words the nation has been waiting for from its celebrities as is the case the world over," William Muchayi wrote under the tweet.
"Much appreciated, we must keep mobilising, speaking out is a good start," said another Twitter user.
Another Twitter user fooled by the parody wrote: "Thank you Jah. I am now going online to pay for music. Zero to piracy."
But not everyone was fooled.
"The real Jah Prayzah is coming to disassociate himself with this tweet," wrote My Mufaro.
Jah Prayzah, perhaps in an attempt to distance himself from the controversial tweet, changed his profile picture on his account @jahprayzah.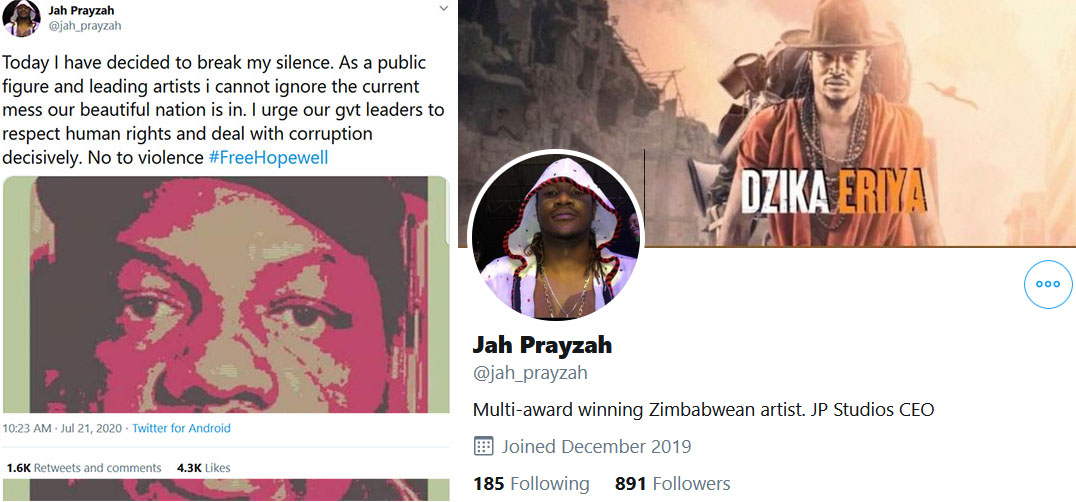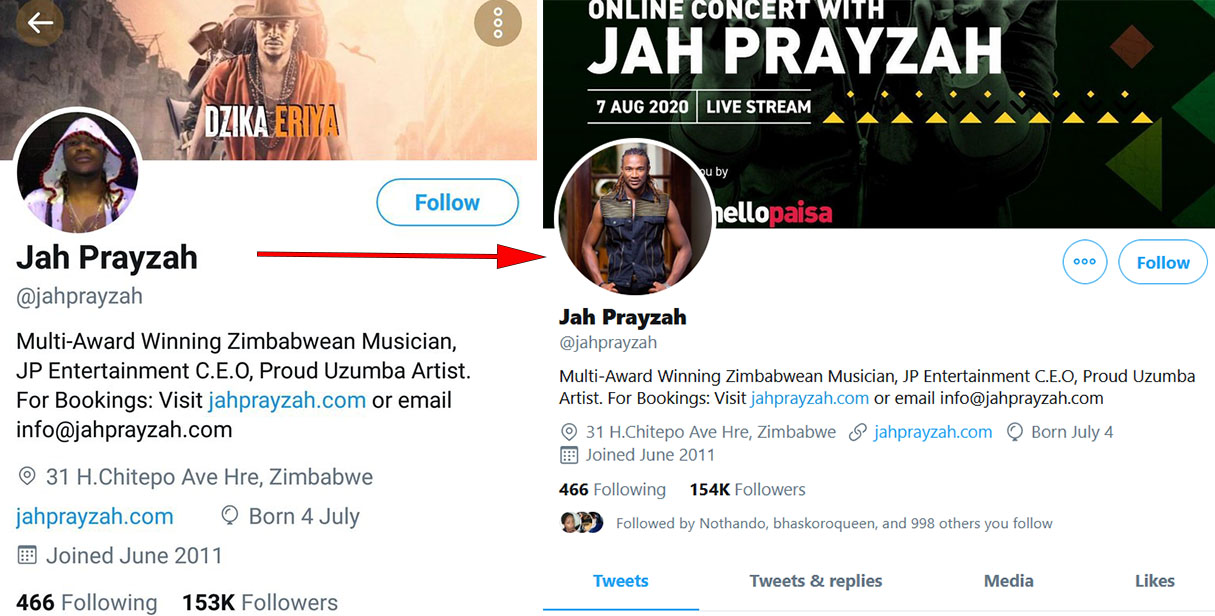 Born Mukudzeyi Mukombe, Jah Prayzah has earned a fortune performing at Zanu PF and state events, and it is unlikely he would kill the goose that lays the golden eggs by aligning with anti-government campaigners.
The musician recently shot a video for his song, 'Follow Me' at the Harare home of Zanu PF official Tendai Savanhu. The song features Patoranking.